22 Quotes to To Help You Heal
Reiki is all about healing the mind, body, and spirit…
But connecting into that powerful and nourishing energy can sometimes be difficult…
Especially when life seems to be working against you.
Find some inspiration for your healing, whether you're working with your own energy or someone else's, with these quotes.
This list includes the wise words from masters like Thich Nhat Hanh, Rumi, Deepak Chopra, the Dalai Lama, and more.
Take a deep breath... read these quotes... and feel the healing energy surge through your body.
22 Quotes for Healing
1. "The art of healing comes from nature, not from the physician. Therefore the physician must start from nature, with an open mind."
― Philipus Aureolus Paracelsus
Trust in the power of the natural, universal energy that is all around you.
2. "I have been a seeker and I still am, but I stopped asking the books and the stars. I started listening to the teaching of my Soul."
― Rumi
You were born with a natural ability to heal yourself. All you have to do is listen.
3. "The soul always knows what to do to heal itself. The challenge is to silence the mind."
― Caroline Myss
Tune out the noise and tune into your intuition.
4. "The body is a self-healing organism, so it's really about clearing things out of the way so the body can heal itself."
― Barbara Brennan
What roadblocks are standing in the way of your healing? Negative energy? Toxic relationships? Unfulfilling work? Harmful thought patterns?
Clearing out energetic blocks will open up your path to a healthy mind, body, and spirit.
5. "You have the power to heal your life, and you need to know that. We think so often that we are helpless, but we're not. We always have the power of our minds… Claim and consciously use your power."
― Louise L. Hay
You are not helpless. You have the power to heal yourself. But sometimes we all need a little guidance.
That's why I created these Guided Healing Sessions. Each audio recording will give you step-by-step instructions so that you can heal yourself in real time.
Click here to learn more about this easy way to jumpstart your healing.
6. "The best and most efficient pharmacy is within your own system."
― Robert C. Peale
Remember that your body was built to heal itself naturally… without the use of chemical drugs and pills.
7. "A healer's power stems not from any special ability, but from maintaining the courage and awareness to embody and express the universal healing power that every human being naturally possesses."
― Eric Micha'el Leventhal
Universal Lifeforce Energy is always available to you… You simply have to have the courage to tap into its infinite power.
8. "We all have the ability to heal ourselves; I know, I have done so… In the morning, know that you are Loved, You Are Love and You Love."
― Lisa Bellini
Channeling love and other positive emotions can help you harness the healing energy within yourself.
9. "Meditation can help us embrace our worries, our fear, our anger; and that is very healing. We let our own natural capacity of healing do the work."
― Thich Nhat Hanh
Connecting with both positive and negative emotions brings you closer to your true self, and ultimately helps unveil your ability to heal.
10. "Meditation is key. It's a crazy world we live in. Everything's happening so fast in our world, so to take a moment and clear the mind and just be totally present, is so healing."
― Jamie Anderson
You cannot be healed if you aren't living in the present.
11. "Meditation is a vital way to purify and quiet the mind, thus rejuvenating the body."
― Deepak Chopra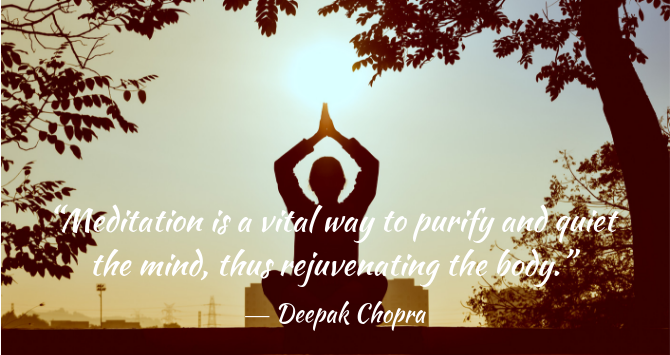 With a healthy and quiet mind, the body is able to heal.
12. "Healing yourself is connected with healing others."
― Yoko Ono
Once you've mastered the art of healing yourself, you'll be able to use your strong connection to universal energy to help heal those around you.
13. "Love is infectious and the greatest healing energy."
― Sai Baba
Remember that Reiki is pure, and must only be used in a loving way that promotes the betterment of others.
14. "Healing is an art. It takes time, it takes practice. It takes love."
― Maza Dohta
Healing doesn't always happen right away… As the old energy begins to release, you then become able to open yourself to more positivity.
15. "Hate is self-destructive. If you hate somebody, you're not hurting the person you hate. You're hurting yourself. And that's a healing. Actually, it's a real healing, forgiveness."
― Louis Zamperini
Hate is such a difficult emotion… one that can often trip you up.
But with a little help from these Guided Healing Sessions, you'll be able to overcome anything. All you have to do is follow along with the short, guided audio tracks.
Click here to access complete and total healing.
16. "To heal from the inside out is the key."
― Wynonna Judd
Don't just treat the symptoms on the surface. Go deeper to heal the root cause.
17. "Reiki is the best vibration for helping someone to relax well and deeply. Relaxation is key to human health and recovery because it initiates our natural and innate healing abilities. It is when we are truly relaxed that true healing can take place."
― Chyna Honey
As the body and mind begin to relax, tension is released and everything becomes soft. And thus relaxation makes it so much easier for the body to let go…
18. "Healing may not be so much about getting better, as about letting go of everything that isn't you - all of the expectations, all of the beliefs - and becoming who you are."
― Rachel Naomi Remen
Letting go of the negative clears energetic blocks so that positive energy can flow freely throughout your system.
19. "By simply relaxing, being quiet, breathing and having a heartfelt intention to help another being, you create a sacred space. In this space, all things are possible."
― Kathleen Prasad
Don't ever let yourself forget that all things are possible. You can heal, and you will heal.
20. "Trust your inner guidance and follow your heart, for your soul has your blueprint and the universe has your back."
― Hazel Butterworth
By trusting the powerful combination of your intuition and the infinite power of universal energy, healing will come to you.
21. "Calm mind brings inner strength and self-confidence, so that's very important for good health."
― Dalai Lama
All humans are striving for good health, yet not all humans know that you have the natural ability to heal yourself.
22. "The wound is the place where the Light enters you."
― Rumi
No matter what kind of wound you have, the only way to heal is to open up so that healing light and energy can come in.
Let your own personal Reiki Master help you along this journey when you use the Guided Healing Sessions. No previous experience is required to follow these simple steps to better health.
Click here to learn more about how you can heal yourself anytime and anywhere.
---